A Prayer for Juarez
In an attempt to intimidate civilians and punish the local authorities, local gangs went on a rampage of killing innocent people in the streets of Ciudad Juarez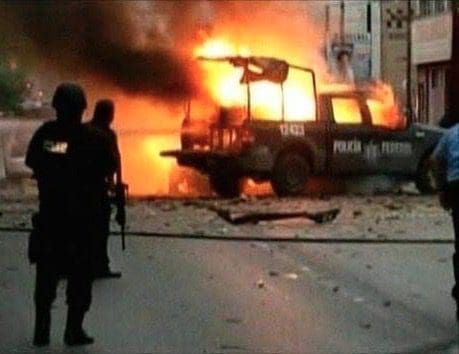 On Thursday, August 11th a wave a crime swept across the Mexican border town of Ciudad Juarez. Sparked by a violent flight in one of the state's penitentiaries between rival gangs, this wave of crime targeted innocent civilians across the city. In an attempt to intimidate civilians and punish the local authorities, local gangs went on a rampage of killing innocent people in the streets. This border town was once described as the murder capital of the world, but in recent years the rate of crime has dropped in a substantial way, reviving a sense of hope and tranquility in the city. But now people are uncertain about the future of their city. I share this terrible feeling of uncertainty with my people, and I wrote this poem to express this feeling:
A Prayer for Juarez
The burned sign of progress
That covers the rubbles of clay and cheap metal
Consumes the blood of the streets.
Flames of unnerving violence
That covered my eyes in a shock of light.
Today is the day which is always present
In the eyes of the children.
They know it is a matter of time
Until the fate of a normal day pays them a visit.
God's Spirit is there, somewhere in the night.
Perhaps in the eyes of those children,
Dragging my spirit out of the flames
Back into the silence of the night.
Then I pray the words of were once said
In the silence of the Desert.
That word that unravels
The testimony of violence.
The victims were evil spirits,
Prosecuted by the evil of pledged loyalty.
Fraternal spirits of men
That once sacrificed their souls
In the altar of filth.
The martyrs were sacrificed
In the same altar:
The offerings of an insatiable
Darkness.
The Spirit of God was present in
Silence, witnessing everything.
A sound of an unspoken prayer
Pronounced an oath of salvation.
The word is thy sacrifice, Christ Jesus.
Amen.